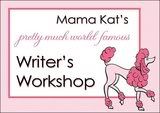 ***********
I can honestly say that lately, my brain has been mush. I find myself unable to take the thoughts in my head and translate them into words, sentences, and paragraphs. So, to ease my writing struggles, today I am working from Mama Kat's Writer's Workshop prompts.
I have selected prompt #1:
Have you ever had a fight with a long time best friend and never made up? Do you think about her from time to time and think about contacting her? What would you say? What if it didn't work out? What if it did?
***********
It was four years ago in October. I had been in New York visiting my (now) ex-fiance' for a long weekend. I had arranged a sitter for the weekend and was to fly back home on Monday evening.
After four relaxing and fun-filled days, I arrived at the airport in Newburg. It was 4:00 pm. My flight was to leave in an hour and a half. It was the last flight out for the night. I got checked in and sat to visit with my fiance' while we waited to hear the boarding call. The departure time came and went. A half hour after my flight was scheduled to leave, I was notified that due to weather out of Philadelphia, my flight would be cancelled. I wouldn't be able to get home until the next day.
While normally the prospect of an additional day with my fiance' would be exciting, the person left in charge of my children for the weekend needed to leave the next morning for a business trip. She needed me to be home that night so she could go home and ready herself to leave. I was screwed!
Naturally, I called my best friend. We had known each other since we were 4. My kids called her Aunt, we had travelled together, spent holidays together, and countless other things. I knew I could count on her to help me out. When she answered the phone, I quickly explained my situation. I asked if she could go collect the kids, keep them for the night, and get them to daycare the next morning. I told her that if all went according to schedule, I would be home before they were done at school and could pick their stuff up when she got home from work.
Her response ~ she couldn't go get them. It was short notice, she was tired, and she didn't have the energy to deal with my high strung kids that night or in the morning before work.
I. Was. Pissed.
I had no idea who else I could call. I had no family in the area and I was all the way across the country with no flight available until the next morning and nowhere for my kids to go. I called my daycare provider in a panic. I had no idea what I was going to do. While I was on the phone with her having a complete meltdown, my son's Cub Scout leader arrived to pick his own kids up from daycare. My daycare provider casually mentioned that she was on the phone with me and my situation and my son's Cub Scout leader offered to take my kids home with him and bring them back in the morning.
Here was a man I had known casually for just a couple of years offering to help me out because he knew how desperate my situation was. He was willing to offer me help when the one person I had known longer than anyone else in my life couldn't be inconvenienced by it.
That was the last time we talked.
My kids still ask about her and her husband, but I really have never noticed a hole in my life since severing ties. I miss her parents but that's really it.
It was that one event that made me take inventory of the relationships in my life. That one event made me evaluate whether or not I was getting what I was giving out of relationships. That one event was a catalyst of some serious purging of some extremely toxic and one-sided relationships in my life.
If she were to ever contact me and acknowledge how severely she let me down that day, I would probably listen. I don't think, however, that we could really ever been friends again.