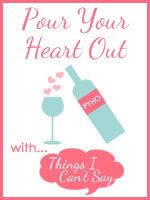 Today I am linking up with my dear friend Shell
***********
Being a parent comes with a lot of worries.
Are they happy? Are they healthy? Do they have enough friends? Are they good friends? Are they involved enough? Are they involved in too much? Are they eating right? Did they remember the sunscreen? Will they look both ways crossing the street even if I'm not there to make sure?
Even if I'm not there to make sure...
Being an only parent, I am constantly aware of the fact that without me, my children are orphans.
I haven't been on a motorcycle in over 10 years. I'd love to try skydiving - but I won't. Hot air balloons? Out of the question. There are so many "thrill-seeking" activities I would like to try, but don't.
I realize that when it is my time, it is my time. There is not a whole lot I can do about it. But minimizing my risks makes me feel better...
I was recently inspired to schedule a routine exam with a dermatologist to have my moles looked at.
That day, in the office, the doctor removed three.
Three suspicious black dots.
To be biopsied.
Biopsy is a scary word. It doesn't matter who you are, or your life's circumstances. The word biopsy always comes with the unspoken word cancer.
As I wait to hear back from the doctor, I force myself to not read about skin cancer. I refuse to search melanoma and the other less scary words associated with skin cancer.
I don't want to freak myself out.
But all I've been thinking about since the moles were removed is, "What if?"
What if it is cancer? What if it's the bad cancer? (Not that there are any good cancers...) What if I'm really sick? What if treatment makes me really sick? What if I can't work? Can't take care of my home? Can't take care of my pets? Can't take care of my kids?
What if I die?
As much as the thought of not seeing them grow into adulthood pains me, I am more scared about what losing both parents would do to them. Who would raise them? Would they turn out alright? What kind of lives would they have?
As I sit here and wait, these thoughts torment my mind.
I pray that all is well. I pray that the suspicious black spots are nothing more than incredibly dark spots. I pray that my kids and I - regardless of how crazy they make me and I make them - have many decades left to make each other nuts.
More than I pray for my health, I pray for their well-being. I pray that they don't have to lose another parent. I pray that the Lord's plan is for me to be around for them, to see them graduate, got to college, get married, and have babies...
I know that people have moles removed every day... I realize that there is a good chance I am over-reacting... But these are the thoughts that have been consuming my mind.