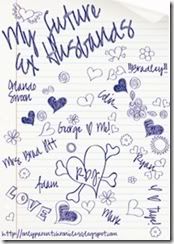 My dear, sweet friend Mimi from Woven By Words recently commented that it was a shame that all of the good eye candy was of the "young enough to date my daughter and not me" variety. I quickly responded that there were many hotties in the "old enough for us" category, and went in search of the perfect man for Meem.
I soon realized that there were soooo many options!
So today is dedicated to Mimi.
May she find her options plentiful!
Also, new this week, per the request of my dear friend Andrea at Good Girl Gone Redneck, feel free to link up with your own Future Ex-Husbands post! Just grab the button above and feel free to link it up below!
Edward Norton ~ 41
Gary Oldman ~ 53
Matt Damon ~40
Jordan Knight ~ 41
Mark Wahlberg ~ 40
As usual, thanks to Google Images for the yummy photos!