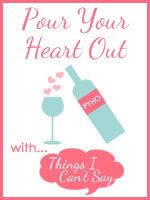 For more information on how you can Pour Your Heart Out,
***********
Life is a juggling act.
Every morning I grudgingly pull myself from bed to wake my son from his peaceful slumber. That's really the only peaceful thing he does these days.
From there I listen to him complain. He complains about his school uniform, packing a lunch, his new Doc Martens that he
had
to have. He complains on the way to the bus about his bus ride, about his teachers, and about his school. Then he complains that I will be at work when he arrives home.
It seems as though at 12, my once thoughtful and considerate son has forgotten about anyone but himself.
He neglects to realize that from dropping him off, I head to work. He doesn't consider that I am learning a new job. It escapes him that I have spent the last three weeks deciding where to send his sister for the rest of the school year. It doesn't concern him that I am distraught by his suffering grades or his extreme negativity. He completely forgets that I am also bearing the weight of a full college course load.
As I arrive home in the evening, my hopes of enjoying our newly found family time come crashing down as his complaining begins again. There is nothing to eat (nothing meaning he didn't want to take the time to make himself a snack). He has too much homework. His sister is wearing
his
sweatshirt. Why won't I let him have his XBox back?
I feed them dinner, get chores and extra-curriculars out of the way, and sit down to breathe and begin my own schoolwork. Only I don't get the opportunity to get much done. I am endlessly interrupted by him wanting help folding his laundry. He wants to express his frustration with having to clean up after our pets. Oh! And could I please give him a tummy rub? It will only take a minute.
Finally, after both of the kids are tucked in for the night, I get the chance to catch up on the things I have left to do. I can do my schoolwork. I am able to catch up on laundry. I even have a little bit of time to say hello to you.
At an hour entirely to late to think about, I finally lay my weary head down for the night. I pray to the Lord for the strength and energy to do it all again the next day. Oh! And that my son broadens his world view.