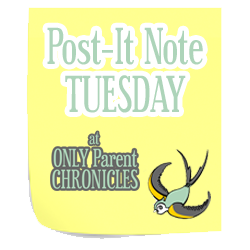 Happy Tuesday!
To make your own stickies,
Then come on back and link up below!
It's time for some SPRING CLEANING and even the pond needs to be cleared of the winter scum buildup! Throw open the windows, crank the tunes and let the sunshine blow in on the breeze. Let's get sticky with POST ITS. Kristin was so generous to let me take over here today. Its always easier for me to clean someone else's pond than my own. I'm addicted to organizing and vacuuming.... yes I'm for hire! Share your tips and tricks or favorite time saving products in the comments or create your own Post Its and link up!