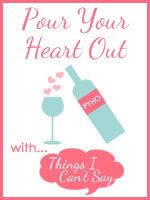 Hop on over and check out her Pour Your Heart Out feature!
Maybe you may have a tale of your own to link!
***********
Sometimes life seems to careen out of control. While we don't see the forces behind it, there is generally a reason for this being amiss or going awry.
My daughter has been struggling with ADHD and ODD for the majority of her life. While she was not diagnosed until she was 6, she has exhibited the behaviors of these diagnosis since infancy. Within the last year, we have seemed to find a medication that truly affected her positively. After scares with violence, weightloss, and other scary side effects, I was afraid we would never find something that suited her. You can imagine my relief when something seemed to be working.
In the year since begining this medication, she has made amazing progress. She has met many of her long term IEP goals at school and has been progressing toward personal goals with her in home therapist. I was finally beginning to see the light at the end of the proverbial tunnel.
As you have read recently, things have been declining in my home in regards to her behavior. After talking at length with her in home therapist, I learned that there had to be some sort of catalyst setting her down this path of regression. Knowing that her home life has been consistant and stable, I began to dig into her school life. What I discovered was sad and frightening.
It turns out that my daughter has been the victim of some serious bullying. To quote her principal, the aggressors are "gifted at making others feel badly about themselves." While I had known there were girls that had picked on my daughter for years, I never had any reason to believe it had gotten past girls just being brats. In the last week, I have come to learn that my daughter (while no saint by any means) has been singled out and routinely verbally attacked on the playground before school. The bullies have been calling her a bitch and a slut, telling her she is ugly, has ugly clothes, that everyone hates her, and that no one will ever be her friend. She has been told that kids are afraid of her because she's different, and comments have been made about her requiring medication to get through the school day and about her requiring special education services for EBD (emotional behavioral disorders). She has also been told that she will get her ass kicked if she doesn't stop talking to certain boys in her class.
Most recently, one of the attacks was videoed by another girl on her telephone and sent around the 5th grade via text. Yes. This is the 5th grade.
While my daughter is receiving consequences in our home for her in appropriate response to these acts (name calling and threats of violent retaliation), no consequences have taken place at school for any of the girls involved. In fact, until I called my daughter's special ed teacher AT HOME on Thursday night, no one at school knew any of this was going on.
The principal called me on Friday to tell me he called all girls involved to his office to talk. He told them all they were receiving their 1st and only warning for this and if it continued, consequences from ISS to expulsion would occur. While I believe this has curbed the issue for now, I'm not sure what this means for my daughter going forward.
First of all, why did it take so long for me to figure out what was going on? Why had she not told anyone until it got to this point? How do we protect our kids from home if the people at the school don't even know it is happening?
Secondly, while I appreciate the school jumping on this on Friday (remember, I called a teacher at home on Thursday), why didn't the principal hear my daughter's plea for help on WEDNESDAY when she tried talking to him? When I brought that up in our conversation on Friday, he admitted to dismissing her when she tried to talk to him. What does it take for a little kid to be heard?
While I agree that bullying is not a new issue in our world, I believe that it is starting much younger and that kids are far crueler. Have you or your children ever been the target of bullying? How did the school handle it? Do you think it was dealt with satisfactorily? Did the bullying end after school intervention?
Me and my beautiful and very trying girl.