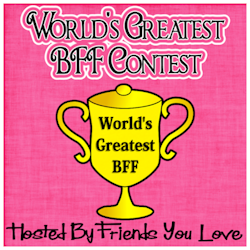 I have the world's greatest BFF. I'm sure you've read about her on my blog more than once. We met the day I interviewed her to be my daycare provider and have never looked back. She is honest with me always, even when my head isn't screwed on straight. She is loyal and kind, funny and crass. She is the one person on the face of the planet that I say absolutely ANYTHING to and she knows exactly what I mean.
Together, we've been through boyfriends
(mine)
, a husband
(hers)
, divorce, broken hearts, new homes, rotten kids, birthdays, babies, and everything else life has thrown at us. I have spent the last 2 years standing solidly by her side as her loser, pile of crap, soon-to-be-ex-husband has done everything he could to break her, knowing that only time will take him down. My heart broke when she moved 5 hours away from me, and it leaps at every opportunity I have to see her. She is my sister from another mister, my voice of reason, and my partner in crime. She is my best friend in the whole world and I love her.
Now, I know what you're thinking... You're thinking about
your
BFF! You're thinking about all of the things that make your BFF the greatest BFF in the world. Well, my friends, I want to hear about it!
In honor of National Women's Friendship Month and the Friends You Love Celebration being hosted by me and my friends at
Friends You Love
, I bring to you
The World's Greatest BFF
contest!
To enter:
~Write a post about your BFF.
How do you know her? How has she been there for you? Tell us about the things you've been through together, through thick and thin. Why is YOUR BFF The World's Greatest BFF?
~Come back here and link your post up
Entries accepted 9/2 - 9/19
On 9/23, we will post our Top 5 favorite BFF posts.
~Beginning 9/24, the public can come back and vote for their favorite!
~Voting will close at 5 p.m. CST on 9/29
~The winner will be annouced at Twitter Gala on 9/30 and receive an extensive prize package
for herself AND her BFF!
Be sure to come back here to check out everyone's entry. And also check out the
Friends You Love blog
for information about all of the fun and exciting events we have planned for International Women's Friendship Month!