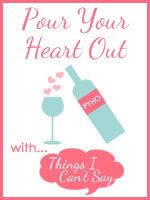 I feel a little bit stuck.
There are a lot of thoughts busying themselves in my head. While I can talk the ear off a deaf man, I am having a difficult time finessing the English language into text.
When I started this blog just over a year ago, the intent was to share the things that happen in my life that cause me to shake my head and look for the film crew. I intended to chronicle my daily struggle with being mom and woman, not allowing the prior to define the latter.
I look back through my archives and I realize there is so much that has been left unsaid. Unsaid because I can't find the words. Unsaid because I'm not sure that this is the place for it. My intention wasn't to write day in and day out about the amazingness of my spawn. While they are quite remarkable and very unique, my completely biased perception of them can only be handled by others in doses. I wrote a bit about dating then met a man that could quite possibly become a permanent addition to this family of three. I have told you pieces of my struggle with my daughter's ADHD and ODD, but not to the point that those unfamiliar with the disorders can comprehend the havoc it wreaks on me and my son. But that is her story and I don't want for her to look back one day and tell me it wasn't mine to tell.
So where do I go from here? What parts of my story should I tell? Where do I see this adventure taking me? I don't feel like I've said all I want to say. I'm excited about the relationships I've built by having this blog and I look forward to creating more. There are so many things I feel strongly about and I see this blog as a platform to bring these issues and passions to the attention of my readers. I may not fit into a particular niche, so I guess I will create my own... The "
True to Myself
" niche. I will do my best to write about things that are true to me. They may not always be passionate, they may not always be noble, but they will always be 100% me.