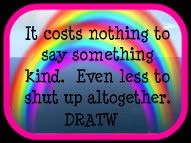 Recently, there has been a lot of hate mongering in Blognia. Someone has been running around spewing hate disguised as "love" and directing it towards people simply for the sake of being mean. In the past, I have wriiten about community and the sense of togetherness I find with my bloggy neighbors. Adrienzgirl has written about 3D friends vs. blogfriends and Princess of Sarcasm created the Blogfia as a way for bloggers to reach out for support when needed.
Yesterday, (in the morning, before my beloved Storm died a premature death) I happened to be perusing Twitter. You see, I follow Nathan Fillion (I've loved him ever since he was Joey Buchanan). Mr. Fillion happened to be blowing up the tweetwaves RTing DRATW from around the globe.
What is DRATW, you ask? Well, according to the Urban Dictionary, Double Rainbow is that which is:
•ecstatically wondrous
•joyfully amazing
•orgasmically blissful
So, what does that have to do with the quote on the button above? The quote is from Nathan Fillion's twitter bio, and honestly, after chatting yesterday morning,
Adrienzgirl
and I thought it really captured the spirit of Blognia. It truly does cost nothing to stop for a moment and say something nice on someone elses blog. It costs even less to click the little red x in the upper right hand corner and say nothing at all if you have nothing nice to say.
Unless the "love" you're spreading is kind, keep it to yourself. No one in Blognia wants to read hate being spewed across the interwebs.