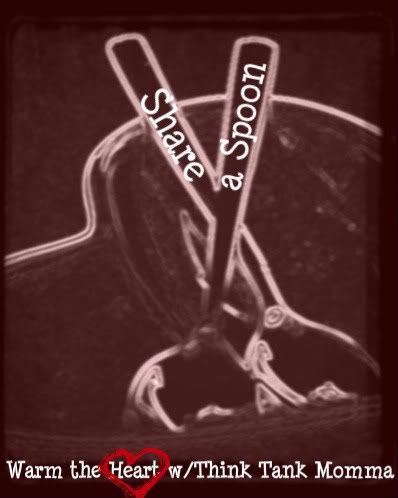 As many of you know, I have been blessed with a tightly knit group of blogging friends I call my Blackberry Bishes. In our chats, we have recently been discussing cooking at home. We decided it would be great if we could put our heads together and swap our favorite recipes. Well, being the big thinker that she is, the lovely Zgirl at
Think Tank Momma
, has decided to set up this recipe swap carnival for all to enjoy! So find your favorite recipes, link up, and share with the world!
***********
In talking with the other moms in my life, I have learned that the most difficult part in scratch cooking is lack of time and the convenience of pre-prepared, processed food. I will admit, as the only parent of two high energy, ADHD children, time in the kitchen is definitely at a premium in this home.
Planning ahead and having "back-ups" of essentials is important if I am going to maintain my commitment to feed my family as healthfully as possible.
Mexican food is a favorite in my home and for years, I bought the convenient 1.25 ounce packages of taco seasoning to give my ground meat it's Mexican flair. My favorite was always
McCormick's
. Have you ever read the back of one of those packs?!?!? In one package of McCormick's Taco Seasoning, there are 430mg of sodium!!! The USDA recommends that the average, healthy adult consume only 2400mg of sodium a day! 430mg is just about 20% of that!
In addition to high sodium, have you ever read the ingredient label on the back of one of those packets? What the heck are "whey solids"? Why do I need sugar in my taco seasoning? Why do they add potato starch? Do I really need all of this extra stuff in my food? NO!!!
So, since I work in a restaurant with a scratch kitchen , I asked the Kitchen Manager, "How do we season our taco meat?" And you know what? He gave me the recipe!
Remember what I said in the beginning about planning ahead? Well, the first recipe is the bulk recipe for the taco seasoning. I took all of the ingredients at their proper measurements, put them in an air tight, sealed container, and shook. I use 2 tablespoons of this seasoning per 1 pound of ground meat.
Taco Seasoning:
1 heaping teaspoon chili powder
2 teaspoons cayenne pepper
1 teaspoon garlic powder
1 teaspoon dried minced onion
1 teaspoon red pepper flakes
1 teaspoon oregano
2 teaspoons paprika
2 tablespoons cumin
1 tablespoon sea salt
1 tablespoon black pepper
Now, if you prefer to season your taco meat as you go, here is the recipe for 1 pound of ground meat:
1 scant teaspoon chili powder
1/2 teaspoon cayenne
1/4 teaspoon garlic powder
1/4 teaspoon dried minced onion
1/4 teaspoon red pepper flakes
1/4 teaspoon oregano
1/2 teaspoon paprika
1 1/2 teaspoon paprika
1 scant teaspoon sea salt
1 teaspoon black pepper
Here's to happy, healthful cooking!!!