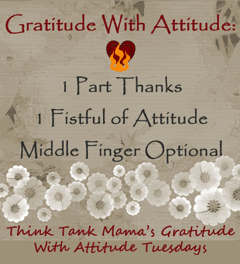 While the name has changed, the purpose is the same! Join
Think Tank Momma
and just say Thank You to the folks that add that extra sumthin' special to your day!
Dear Mama Nature,
Thank you, thank you, thank you, thank you! When I woke up this morning to find more snow floating to the ground I was so surprised! It's really not enough that we have had record breaking amounts of snow this year! You are so terribly thoughtful to send us more! Please, keep it up!
Sincerly,
Will Be Freaking Pissed If Those Kids Of Mine Have Another Snow Day
Redneck Brother,
I got your email regarding the donation list for your wife's benefit. Four times. Thank you so much for ensuring that your address book settings innundate me with repeated versions of the same information. It's comforting to know that I have so many ways to check what will be offered at the benefit. Please, don't streamline your address book to make sure you aren't spamming people. I really look forward to continually deleting 3/4 of what you send to me.
Love,
Your Very Thankful Seester
Precious Darling Daughter,
I had so much fun shopping with you this weekend (for realz). Thank you so much for your entitled, snippy, and ungrateful attitude you've had since The Man and I dropped hundreds of dollars on new clothes for you at Justice. Please know that I appreciate your spark, but very soon your attitude will be recieving a readjustment.
Lots of Love,
Your Mama
Just a sidebar, I went out with Miss Lucinda this weekend and she met a boy from Oak Park, IL. I've had the following song in my head since... Check it out! It will bring you back. In a good way!