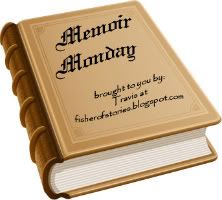 This is my first ever Memoir Monday, brought to you by that super swell fella Travis at
I Like to Fish
. Go on over and check him out. He tickles my funny bone, hopefully he tickles yours!
I remember the day I met him. We had just moved into the new middle school. I was in 6th grade. It was gym class. The gymnasium was so big, we were able to share the gym hour with another class. They were 7th graders. We were in the badminton lesson and the phy-ed teachers decided to put the two classes together and run badminton tournaments. He was made my partner.

He was kind of a smart ass. My mouthy little self liked that about him. He was tall and thin and has dark brown hair, twinkling brown eyes, and a killer smile. He made me laugh. We quickly became very close.

I remember falling asleep on the telephone with him. We would talk about girls he liked and boys I liked. We talked about music, school, what we wanted to do when we grew up. We played our favorite songs to each other over the telephone. There wasn't anything we didn't know about one another. To this day, each time I hear a ballad by Poison, Warrant, or Alabama, I smile and fondly remember those telephone calls. Our song was Bon Jovi's "Never Say Goodbye".

As our friendship grew, we became inseparable. We were each other's first kiss. We were each other's shoulder to cry on. We were each other's biggest fans. Surprisingly, his girlfriends never liked me, but it never mattered. He was still always my best friend. As we got older and into high school, we would stay up late at each other's houses; often we fell asleep in each other's arms. My mother would often wake us in the morning and immediately call his in case she didn't know where he was. As high schoolers, our relationship never crossed the friend line. He was going to me my Man of Honor someday, and I would be his Best Woman. And if for some reason we didn't find the loves of our lives by the time we had both entered our 30's, we would just marry each other. After, it couldn't be so bad being married to your best friend...

In August, 1996, just 2 months after my high school graduation, my best friend left this Earth. A victim of a freak accident, he died in the arms of another dear friend. Today would be his 33rd birthday. There is not a day that goes by that I don't miss him. Not a day goes by that I don't think of him. Not a day goes by that I am not grateful for the time I had him in my life.