That's right folks, it's the latest new craze! Wanna let someone know just how much you appreciate their inadequacies? Are you itching to point out someone's raging case of S.A.L.S?

Now is the moment you've been waiting for!

Brought to you by one of my favorite bishes on the planet,

So head on over, check it out, and make sure you link up your post using the handy Mr. Linky on

Momma's page!!!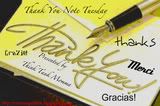 Dear Douchebags Sitting at the End of My Bar,
Thank you so much for coming in tonight. Because you chose to patronize my place of work this evening, I have learned that all douchebags are not created equally. You, gentlemen, are a special kind of douchebag. Men like you make me so thankful to have found the one I call my own.

Pleasant and Pleased Bartender
Bingo tonight was AWESOME!! I'm so grateful for the speedy number reading tonight. I may not have gotten all of the numbers you called marked AND I may have missed out on winning a bingo or two, BUT I got home at such a reasonable hour! Thanks so much for having my full night's sleep in mind!
Dearest Illegal Immigrant Plowing Company,
I'm writing to let you know what a bang up job you've done taking care of all of this snow we've had. The experience you've had plowing snow in your home country of Mexico is evident. There is truly nothing that makes me happier than my road being about 2 1/2 feet narrower and an entire sandbox in my driveway. The latter makes sweeping and vacuuming so much darn fun!