Today I am linking up with my long, lost friend
Shell
and pouring my heart out.
Be sure to swing on by there and check out the other posts when you're done here!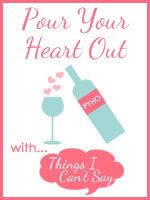 Life has a funny way of working itself out.
Based on some comments I have received recently, it would appear as though I have been a bit criptic recently.
You see, I have spent the last two years blogging as an only parent. As a widow, I have never had someone to co-parent with. I have dated on and off over the last ten years. I have even had a few serious relationships. One upon a time, I was even planning to be remarried...
To this guy...
I met him that summer. He was home for summer break, just recently turned 21... I was 28...and his boss' boss. Needless to say, our interest in one another was a bit taboo.
He went back to college that fall, and once he was gone, we realized we didn't want to be apart. That was the beginning of us.
He was a college senior 2 hours away, and I was an only parent of a 1st and 2nd grader.
Our friends didn't understand what we could possibly have in common, and no one thought we would last.
After graduating college, he had plans to go to culinary school - in New York. The thought of being so far apart for two more years was awful. However, I knew - even though he considered not going - if he didn't go so he could stay here with me and the kids, he may some day regret it.
I had given up so much in my life to be married young and have my children. There was no way I could let him give up his dream.
So he went.
And we were apart.
It was difficult, but our long, nightly phone calls kept us close. We knew that despite the distance, we wanted to be together. Our plans included him finishing culinary school and us eventually being married...
But as I said - not everyone understood what we could possibly have in common.
His parents were adamant that he and I were not to be married. They threatened to disown him, to cut him off. I was torn. His family meant so much to him. I couldn't put him in a position to have to pick between them or me.
So we split up.
It was heart wrenching, but seemingly necessary.
We spent the last three years in different states. We dated other people, pursued happiness independently.
But we were still best friends.
At the beginning of this summer, we both found ourselves single again.
It was clear, as we talked, that we still cared very much for one another.
We decided that three years apart were three years too many.
Without much planning, he gave notice at his job, packed up his apartment, and came back home.
He moved in on September 11.
It's amazing how well you know someone after 5 years.
It's amazing how right it feels to have him here.
And although I will always be an only parent, it is amazing how much easier life is with a partner.